Funding Sustainability: Beyond 21st CCLC
Ben Hinkle-Wszalek and Phillip Smith of Cayen Systems are presenting their innovative method for programs to manage funding at the Beyond School Hours Conference in Orlando, FL, on 2/27. The workshop, "Funding Sustainability: Beyond 21st CCLC" shares the TINCAN method of sustainability, a methodology that ensures after-school programs will be able to serve their community for years to come.
The acronym "TINCAN" is used to guide participants through their program's current sustainability, and look towards the future:
Timeline: Ask yourself, how much time do you have remaining on your current grant cycle?
Inventory: Do you have a sustainability plan? Is it up to date?
Needs: Assess where the biggest areas for improvement are in your sustainability plan.
Concentrate Efforts: Break things down into smaller projects and prioritize what needs to be completed first.
Activate: Find the easy wins.
Never Stop: Keep it going!
After-school programs can have a multitude of funding sources. One of the biggest funding sources for after-school programs is the 21st Century Community Learning Center (21CCLC) Grant, but we have found that the most successful programs receive no more than 30% of their funding from a single source.
To receive 21CCLC funding, programs must collect and report specific program data points as prescribed by the federal government, and doing so improves the odds of renewing your 21CCLC grant. But what happens when that funding term expires and your grant isn't renewed?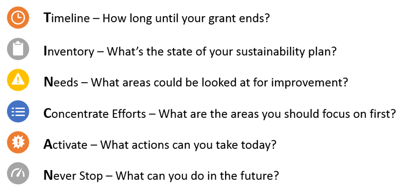 In this session, we share how some programs have successfully modified their program design to become an after-school care model that is sustainable for years to come, keeping their doors open to students and families. Participants will also have a chance to measure their current sustainability efforts and had an opportunity to share ideas with their peers.
If you are not able to attend the workshop, you can still learn some of these after-school program sustainability tips in our ebook:
Cayen has more than 20 years of experience providing out-of-school-time (OST) program management and reporting software to 21CCLC and parent-pay programs. Cayen currently serves nine state departments of education and 1000s of OST programs throughout the United States.
To learn more about data security and what AfterSchool21 and AfterSchool201 provide to out-of-school-time programs across the country, contact a member of our team.